Content Marketing Strategist 🇫🇮
Kokenut sisältömarkkinoinnin strategi – oletko se sinä?
We usually respond within two weeks
Nyt etsimme joukkoomme kokenutta suomenkielistä sisältömarkkinoinnin strategia! Tämä on senior-tason tehtävä, joka vaatii useiden vuosien kokemusta markkinoinnista.
Tehtävässä tarvitset kokemusta ennen kaikkea kirjallisten markkinointisisältöjen suunnittelusta, tuottamisesta, jakelusta sekä tuloksellisuuden mittaamisesta siten, että lopputulos on linjassa pitkän ja lyhyen aikavälin liiketoimintatavoitteiden kanssa.
Käytännössä arjen to do -listalle voi sisältyä mitä tahansa asiantuntija-artikkelista asiakastutkimukseen tai podcast-sarjan konseptoinnista tuotesivun konversio-optimointiin. Ja rehellisesti sanottuna: se on monilta osin up to you! Tehtäväsi on suositella asiakkaalle ratkaisuja, jotka auttavat heitä pääsemään tavoitteeseensa.
Jos tämä kuulosti sinulta, jatka lukemista! 👇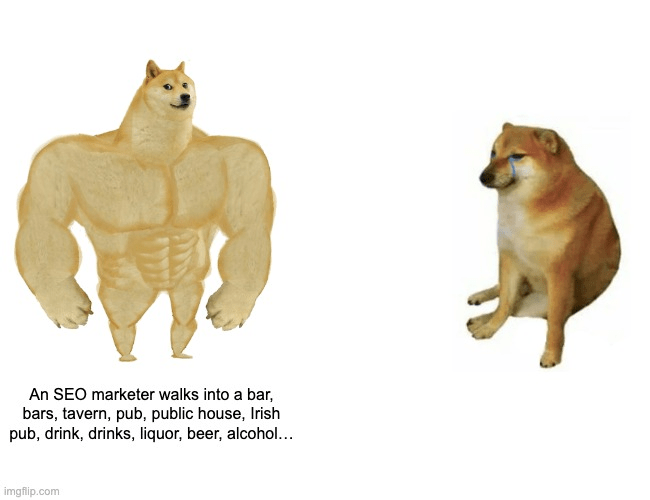 Rooli pähkinänkuoressa 🥜
🧠 Sinulla on 2–4 jatkuvaa omaa asiakkuutta, ja näiden lisäksi satunnaisesti erilaisia projekteja. Toimimme asiakkaidemme kanssa agile-mallilla kuukauden sprinteissä, ja oman tiimisi lisäksi pääset toimimaan useiden erilaisten asiakkuustiimien kanssa. Työparinasi on useimmiten Growth Marketing Strategist ja usein myös Paid Acquisition Specialist. 
🧠 Jatkuvissa asiakkuuksissa vastaat sisältömarkkinoinnin tuloksellisuudesta ja kehittämisestä. Työ sisältää sekä strategista suunnittelua että käytännön kirjoitustyötä. Osan kirjoitustyöstä ulkoistat freelancer-verkostollemme.
😍 Voit osallistua oman kiinnostuksesi mukaan myös tehtäviin, joiden tavoitteena on tehdä Advance B2B:stä maailman paras työpaikka.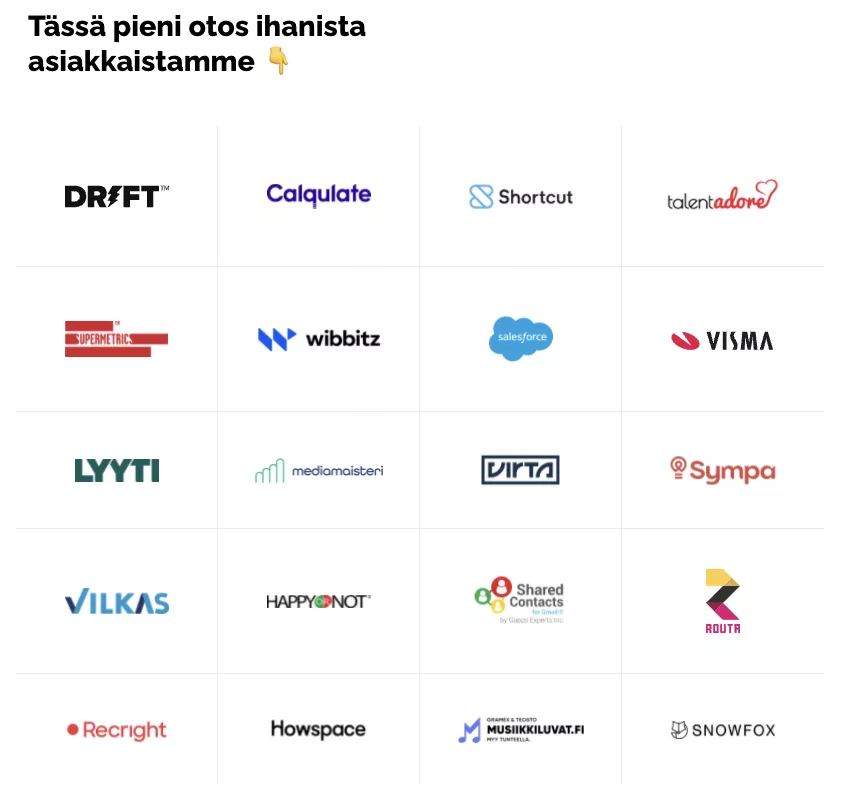 Näitä asioita arvostamme
🔥 Liiketoimintaymmärrystä yhdistettynä kaupalliseen luovuuteen.
🔥 Kykyä muuntaa asiakkaan liiketoimintatavoitteet sisältömarkkinoinnin strategiaksi, arjen tekemiseksi ja onnistumisen mittareiksi. Osaat myös analysoida ja raportoida tuloksia asiakkaalle merkityksellisessä kontekstissa. 
🔥 Osaamista ja näkemystä seuraavista osa-alueista: kasvumarkkinointi, sisältömarkkinoinnin tuloksellisuuden mittaaminen ja analytiikka, positiointi & brändien rakentaminen sisältömarkkinoinnin keinoin, erilaiset sisältökonseptit ja -formaatit, asiakastutkimus, konversio-optimointi (kaikki nämä erityisesti SaaS-kontekstissa).
🔥 Käytännön SEO-osaamista sekä tärkeimpien työkalujen, kuten SEMrushin, Mozin ja/tai Ahrefsin, hallintaa.
🔥 Rohkeutta esittää ja perustella näkemyksiäsi, tehdä itsenäisiä päätöksiä ja haastaa tarvittaessa myös asiakasta ajattelemaan isommin.
🔥 Projektinjohtamistaitoa, järjestelmällisyyttä sekä oman työn ja ajankäytön hallintaa. 
=================================

Lue lisää työskentelystä Advance B2B:llä:
👉 The good, the bad, and the ugly about working here
=================================
Näistä saat lisäpisteitä 
📣 Aiempi kokemus SaaS- ja/tai subscription-yrityksistä
📣 Ymmärrys SaaS-yritysten verkkosivustojen rakentamisesta sisältöjen näkökulmasta: mitä roolia näyttelee esimerkiksi konversio-optimointi tuotesivulla, ja minkälaisilla keinoin asiakasta voi kuljettaa sivustolla eteenpäin?
📣 Aiempi kokemus sisältöauditointien tekemisestä (esimerkiksi SEMrushilla), sekä perusymmärrys teknisestä SEOsta.
📣 HubSpotin sekä muiden markkinointiteknologioiden käyttökokemus.
📣 Ymmärrys erilaisista myyntimalleista (esim. low-touch, no-touch) sekä näiden vaikutuksesta sisältöstrategin työhön.
Tehtävässä onnistumisen tärkeimmät mittarit

❤️ Asiakkaidemme onnellisuus (sprint happiness index)
📈 Asiakkaille asetettujen tavoitteiden saavuttaminen
📈 Asiakaspito, -kannattavuus sekä asiakkuuden elinkaaren arvo
📈 Tiimiltäsi saatava palaute

Lisätietoja & miten haet 
😍 Tutustu ennen hakemista kulttuurikoodiimme: noudatamme sitä päivittäisessä arjessamme, joten on tärkeää että koet sen omaksesi.
📌 Toimistomme sijaitsee Malmilla Helsingissä, mutta voit valita työskentelypaikkasi vapaasti. 100 % etätyö on meille yhtä ok kuin 5 toimistopäivää viikossa – sekä kaikki tältä väliltä.
💰 Kuukausipalkkasi perustuu kokemukseesi, taitoihisi sekä sijaintiisi. Tyypillisesti sisältöstrategimme saavat palkkaa noin 4000–4500 € kuukaudessa
⏰ Aloitamme haastattelut heti, kun sopivia hakijoita tulee, mutta lukkoonlyötyä aikataulua rekrylle ei tällä hetkellä ole.

🤘 Rekrytointiprosessi koostuu 2–3 etätapaamisesta, ennakkotehtävästä sekä juttuhetkestä tulevan tiimisi kanssa.
💭 Jos sinulla on kysyttävää, voit ottaa yhteyttä Seija Lappalaiseen LinkedInissä (liitä viesti kontaktipyyntöön) tai sähköpostilla seija@advanceb2b.fi. 
⚠️ Lisääthän mukaan mahdollisimman kattavan setin työnäytteitä viimeisimmistä tekemistäsi B2B-sisällöistä! Saamme tähän rooliin tyypillisesti erittäin paljon hakemuksia, ja käytämme työnäytteitä keskeisenä arviointiperusteenamme.
💌 Jos tämä homma ei ole sinua varten, olemme kiitollisia jos vinkkaat työpaikasta henkilölle, jonka tunnistit kuvauksesta. 🙏
Remote status

Hybrid Remote
Very Official Headquarters
What's in it for you?
No rules on "remote work"or "office hours" 🙅🏼

Not a morning person? Not a problem. Dreaming about working from the summer cottage? Just do it! We trust our employees: as long as you don't cause trouble to your team and customers, you can work when & where it's the most convenient for you.

Get paid to learn 💰

We dedicate 10% of our time (that's half a day every week) to learning new things, and you'll also have a personal training budget. And the best part? You'll choose how you want to spend those.

Auntie service to support the mental well-being ❤️

We offer our employees Auntie's personal meeting packages that help us deal with everyday issues before they become overwhelming.

Permission to speak up 🙋🏾

Whatever the situation, you're more than welcome to voice your opinion. At Advance B2B, all new development ideas, constructive criticism, and feedback are assessed based on their merit, not based on who brought them up.

Do what feels right 🧠

You never have to ask for permission to blow up an internal process, or try something new with a customer. As long as you can justify your decisions and learn from your experiments, you're basically free to do whatever you want.

Safe for everyone 🌈

We are committed to creating a safe, diverse and inclusive working environment for everyone.

Employee bike benefit available 🚴🏻‍♀️

Aaaand PS. your birthday is always a paid day off 👋🎂
What is this all about?
Back in the dark ages, our founders left their well-paying full-time jobs to start an inbound marketing agency. The big idea was to help B2B companies grow by creating marketing their customers would love.
Fast-forward to today, and that two-person business has grown into a full-blown growth marketing agency with customers across three continents.
Now, if you are an experienced SaaS growth marketer, digital sales expert, paid advertising specialist, or perhaps a tech/analytics consultant looking for a new gig.... We'd love to chat! 😍
About Advance B2B | Growth Marketing Agency
Coworkers
45+ employees, and 10+ nationalities
Content Marketing Strategist 🇫🇮
Kokenut sisältömarkkinoinnin strategi – oletko se sinä?
Loading application form
Already working at Advance B2B | Growth Marketing Agency?
Let's recruit together and find your next colleague.