Growth Marketing Strategist
We're looking for two experienced Growth Marketing Strategists to run growth marketing operations for our international and Finnish customers. (They're awesome B2B SaaS and subscription companies!)
We usually respond within a week
We're looking for two experienced Growth Marketing Strategists to run growth marketing operations for our international and Finnish customers! 

This is a senior position that requires several years of relevant experience in marketing, preferably from an agency or a scale-up/established B2B SaaS company. 
That means you need to have a thorough understanding of different SaaS and subscription business models, commercial strategies, and go-to-market strategies.

We're looking for experience in turning customers' business and marketing goals into solid growth marketing plans. The ability to build actionable growth marketing strategies based on the customers' business models and a hands-on approach for executing the strategies.
Your new role in a nutshell 🥜
🚀 You'll run growth marketing operations for 3-4 of our customers (who happen to be awesome B2B SaaS, tech, and subscription companies).
🚀 You'll work closely together with our content marketers, paid acquisition specialists, web analysts, designers, developers, and customers to build and implement research-based growth marketing strategies.
🚀 You'll be in charge of running your customers' daily marketing operations according to our agile marketing model. In addition to your marketing tasks, that involves acting as the right hand to our customers, running meetings, and reporting on results weekly and monthly.
🚀 You'll be in charge of cross-selling and up-selling to your customers, and supporting new business sales (=attending sales meetings as a subject matter expert).
🚀 You'll continuously develop your own skills and knowledge, as well as our ways of working. You'll also proactively share your learnings with the rest of the team.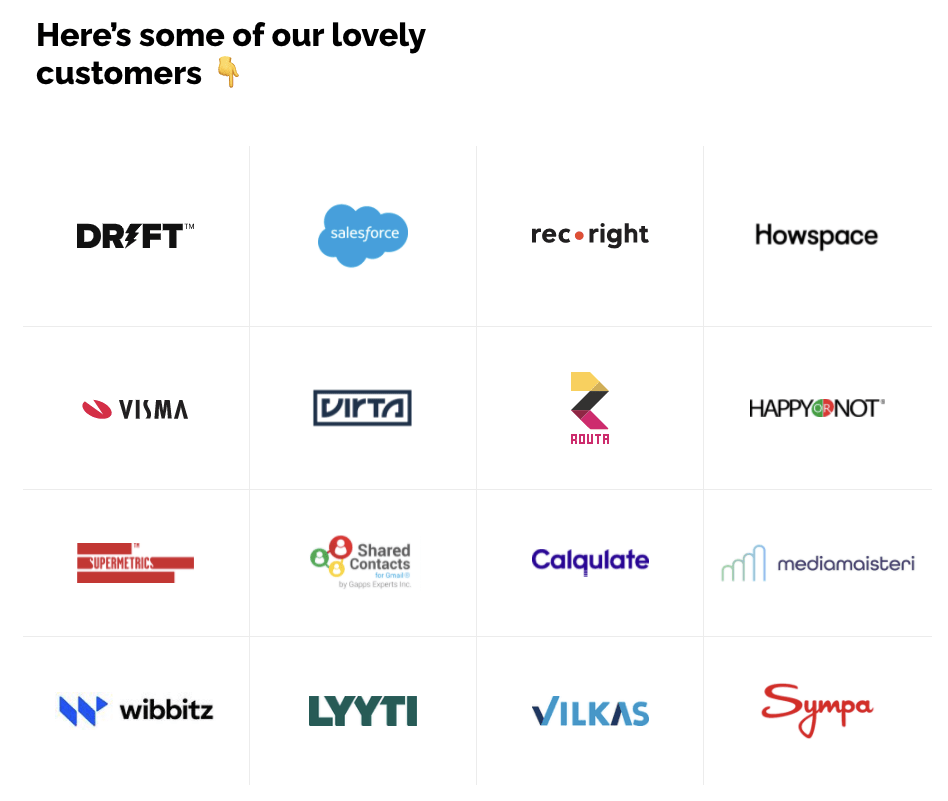 What we expect from you
⭐️ The ability to form hypotheses, conduct controlled marketing experiments, and build actionable growth marketing strategies based on the customers' business model, goals, market & competitive situation, customer data, and insights from their target audience.
⭐️ The ability to convert your customers' business and marketing goals into tactical metrics, and continuously analyze and report on the results so that your customers always have a clear understanding of what's working, what isn't, why you think that is, and what you think they should focus on next.
⭐️ You're a generalist with hands-on experience and interest in one or more of the following areas: positioning & messaging, SaaS go-to-market strategies, content marketing, product marketing, marketing automation, sales/marketing alignment, business analytics, paid acquisition, web analytics, funnel optimization, and conducting controlled experiments (e.g. A/B testing).
⭐️ Great project management, organizational, and people skills – we have no project managers, so everyone's responsible for their own work and customer communications.
⭐️ Fluency in English. Please also tell us if you have the possibility to work in Finnish with our Finnish customers. If you only work with international customers, we do not require any Finnish skills.
=================================
Read more about this role: 
👉 A week in the life of a Growth Marketing Strategist
=================================
Your success will be measured in...
📈 Customer satisfaction and reaching the goals you've set for each customer.
📈 Customer retention, profitability, and lifetime value.
📈 Feedback from your team members.
Additional information & How to apply
⏰ At this time, we will hire as soon as we find the right candidates to fit the role.

📍Location: Anywhere with good internet as long as you can work in the Helsinki timezone (EET). 100% remote is ok for us if that's what you prefer! And if you prefer working at the office, our very official HQ is located in Malmi, Helsinki.
🗣 Please let us know in which languages you could do your work!
💰Your monthly salary will be based on your experience, skills, and location. Our growth marketing strategists typically get paid between 4000 and 4500€ a month.
👩🏽‍💻The recruitment process usually consists of 2-3 interview rounds, a small homework assignment, and a meeting with your future team.
🤘 If you have any questions about the position, you can contact Ali Kisaoglu on LinkedIn or via email OR Hanna Harjula on LinkedIn or via email.
💌 Psst! If this position isn't for you, we'd really appreciate it if you could share it with your network or with someone you recognized from the description. Thank you! 🙏
Remote status

Flexible Remote
We usually respond within a week
Contact
Ali Kisaoglu
Growth Marketing Strategist & Team Lead - International
What's in it for you?
No rules on "remote work"or "office hours" 🙅🏼

Not a morning person? Not a problem. Dreaming about working from the summer cottage? Just do it! We trust our employees: as long as you don't cause trouble to your team and customers, you can work when & where it's the most convenient for you.

Get paid to learn 💰

We dedicate 10% of our time (that's half a day every week) to learning new things, and you'll also have a personal training budget. And the best part? You'll choose how you want to spend those.

Permission to speak up 🙋🏾

Whatever the situation, you're more than welcome to voice your opinion. At Advance B2B, all new development ideas, constructive criticism, and feedback are assessed based on their merit, not based on who brought them up.

Do what feels right 🧠

You never have to ask for permission to blow up an internal process, or try something new with a customer. As long as you can justify your decisions and learn from your experiments, you're basically free to do whatever you want.

Safe for everyone 🌈

We are committed to creating a safe, diverse and inclusive working environment for everyone.
What is this all about?
Back in the dark ages our founders Paavo and Mikko left their well-paying full-time jobs to start an inbound marketing agency. The big idea was to help B2B companies grow by creating marketing their customers would love.
Fast-forward to today, and that two-man business has grown into a full-blown growth marketing agency with customers across three continents.
Now, if you are an experienced SaaS growth marketer, digital sales expert, paid advertising specialist, or perhaps a tech/analytics consultant looking for a new gig.... We'd love to chat! 😍
About Advance B2B | Growth Marketing Agency
Already working at Advance B2B | Growth Marketing Agency?
Let's recruit together and find your next colleague.