Data & Analytics Specialist
We are looking for a skilled web & CMS Analytics Consultant to help our growth marketing customers to become even more data-driven and efficient 🚀
We usually respond within a week
We are looking for a skilled Analytics Consultant to support our experts and customers to make the most out of their data. Is that you? 🤩
Things you would get to do in this role:
📈 Create reports and dashboards. Building views from event tracking to full-fledged dashboards, combining data from different sources, and making sure the views are meaningful for each customer team.

📈 Support us in our data-related mysteries. Act as a data-whisperer in customer teams, supporting conversion setups, paid ads campaign reporting, and answering team questions with data.

📈 Selling and delivering customer projects – sometimes entire Analytics Project Packages, sometimes as the data-driven MVP in a larger Growth Marketing project

We strive to offer you a reasonable amount of customers for long-term retainer work, but you should prepare for some uncertainty and be ready to do smaller ad hoc tasks when needed. Ideally, your time will be split between a few longer-standing customer projects and smaller quicker tasks our teams and customers need.

You will work under a seasoned Data&Analytics Strategist, who will make sure your workload stays balanced and you keep learning while not being thrown under the bus with surprising tasks. Besides that, everyone at AdvanceB2B is committed to supporting and coaching one another – you'll never work alone.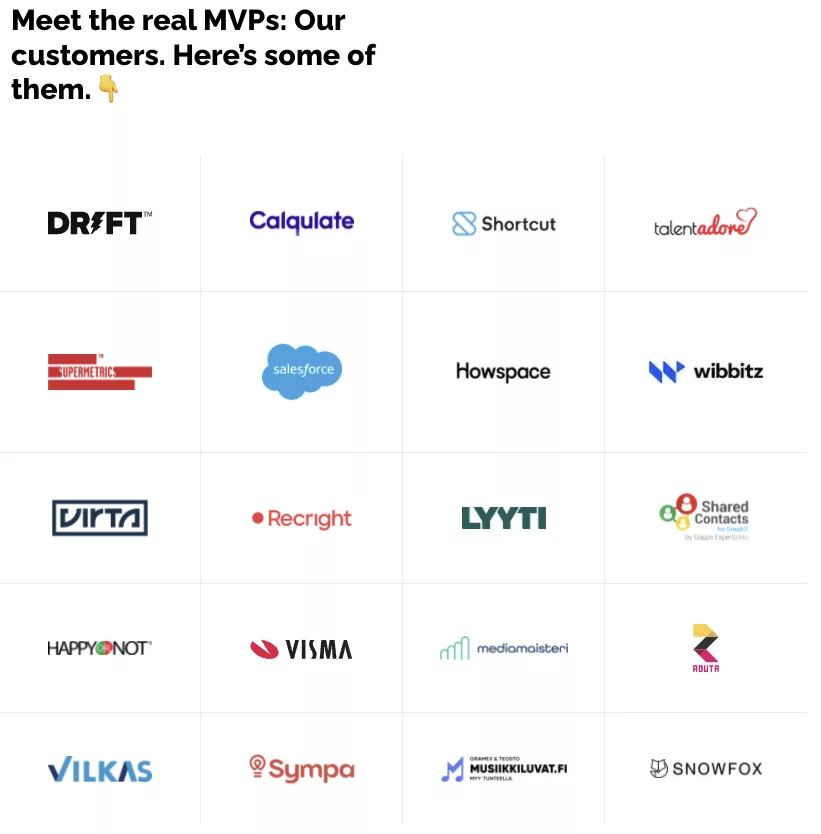 What we expect from you:
Must-have

📊 Good experience in web analytics (Google Analytics, experience with GA4 a plus!)

📊 Experience in working with Looker/DataStudio or similar tools (Tableau, PowerBI, PiwikPro…)

📊 Good Experience working with Google Tag Manager

📊 Good experience in Paid Advertising Reporting (Google Ads, LinkedIn, native ads)

📊 Great project management, organizational, and people skills – everyone's responsible for their own work and customer communications at Advance B2B.

📊Excellent English skills – let us know of your other language skills as well!
Awesome-to-have

😍 Experience in uniting different data sources (LinkedIn and Google Analytics, Paid Ads, and HubSpot) in a single view. We use Supermetrics, let us know if you have experience in that or something similar!
😍 Knowledge / experience of SEO and/or Paid Acquisition is a sticker-worthy skill.
😍 An understanding of SaaS & Subscription businesses, especially low-touch & no-touch sales models.
😍 Experience in managing / reporting CRM data (we mainly use HubSpot, but experience with any Marketing / Sales Automation Tool works). Willingness to learn this is a must-have!
😍 You understand how intelligent use of data and analytics tools enables better growth marketing results.
Your success will be measured in...
🤩 Customer satisfaction and reaching the goals you've set.
🤩 Customer retention, profitability, and lifetime value.
🤩 Feedback from your team members.
Additional information and how to apply
🤩 Before you apply, take a look at our culture code!
🤩 Don't worry if you're not an expert in all the above-mentioned. Your enthusiasm to learn is most important. (Yet, if you happen to be super-skilled, we will of course take it into consideration in salary negotiations.)
🖖 Rather than your years of experience, we'd love to know what you have done, the different types of customers or projects you have managed, and what value you have brought.
🖖 We always appreciate a good old-fashioned CV resume, but if you'd like, you are very welcome to present yourself as you wish: portfolio, audiotape, PowerPoint presentation, link to your YouTube channel…
⏰ We will hire when we find the right candidate to fit the role.
📍 Location: Anywhere with good internet as long as you can work in the Helsinki timezone (EET). 100% remote is ok for us if that's what you prefer! And if you want to work at the office, our very official HQ is located in Malmi, Helsinki.
🇬🇧 Working language: English.
💰 For this role, we are prepared to pay something between 3300–3900 € per month based on your experience and skills.
👩🏽‍💻 The recruitment process usually consists of 2-3 interview rounds, a small homework assignment, and a meeting with your future team.
🤘 If you have any questions about the position, you can contact Mia Mäkipää on LinkedIn or via email (firstname@advanceb2b.fi).
💌 Psst! If this position isn't for you, we'd really appreciate it if you could share it with your network or with someone you recognize from the description. Thank you! 🙏
Remote status

Fully Remote
Very Official Headquarters
What's in it for you?
No rules on "remote work"or "office hours" 🙅🏼

Not a morning person? Not a problem. Dreaming about working from the summer cottage? Just do it! We trust our employees: as long as you don't cause trouble to your team and customers, you can work when & where it's the most convenient for you.

Get paid to learn 💰

We dedicate 10% of our time (that's half a day every week) to learning new things, and you'll also have a personal training budget. And the best part? You'll choose how you want to spend those.

Auntie service to support the mental well-being ❤️

We offer our employees Auntie's personal meeting packages that help us deal with everyday issues before they become overwhelming.

Permission to speak up 🙋🏾

Whatever the situation, you're more than welcome to voice your opinion. At Advance B2B, all new development ideas, constructive criticism, and feedback are assessed based on their merit, not based on who brought them up.

Do what feels right 🧠

You never have to ask for permission to blow up an internal process, or try something new with a customer. As long as you can justify your decisions and learn from your experiments, you're basically free to do whatever you want.

Safe for everyone 🌈

We are committed to creating a safe, diverse and inclusive working environment for everyone.

Employee bike benefit available 🚴🏻‍♀️

Aaaand PS. your birthday is always a paid day off 👋🎂
What is this all about?
Back in the dark ages, our founders left their well-paying full-time jobs to start an inbound marketing agency. The big idea was to help B2B companies grow by creating marketing their customers would love.
Fast-forward to today, and that two-person business has grown into a full-blown growth marketing agency with customers across three continents.
Now, if you are an experienced SaaS growth marketer, digital sales expert, paid advertising specialist, or perhaps a tech/analytics consultant looking for a new gig.... We'd love to chat! 😍
About Advance B2B | Growth Marketing Agency
Coworkers
45+ employees, and 10+ nationalities
Data & Analytics Specialist
We are looking for a skilled web & CMS Analytics Consultant to help our growth marketing customers to become even more data-driven and efficient 🚀
Loading application form
Already working at Advance B2B | Growth Marketing Agency?
Let's recruit together and find your next colleague.