A sprint planning week in the life of a Growth Marketing Strategist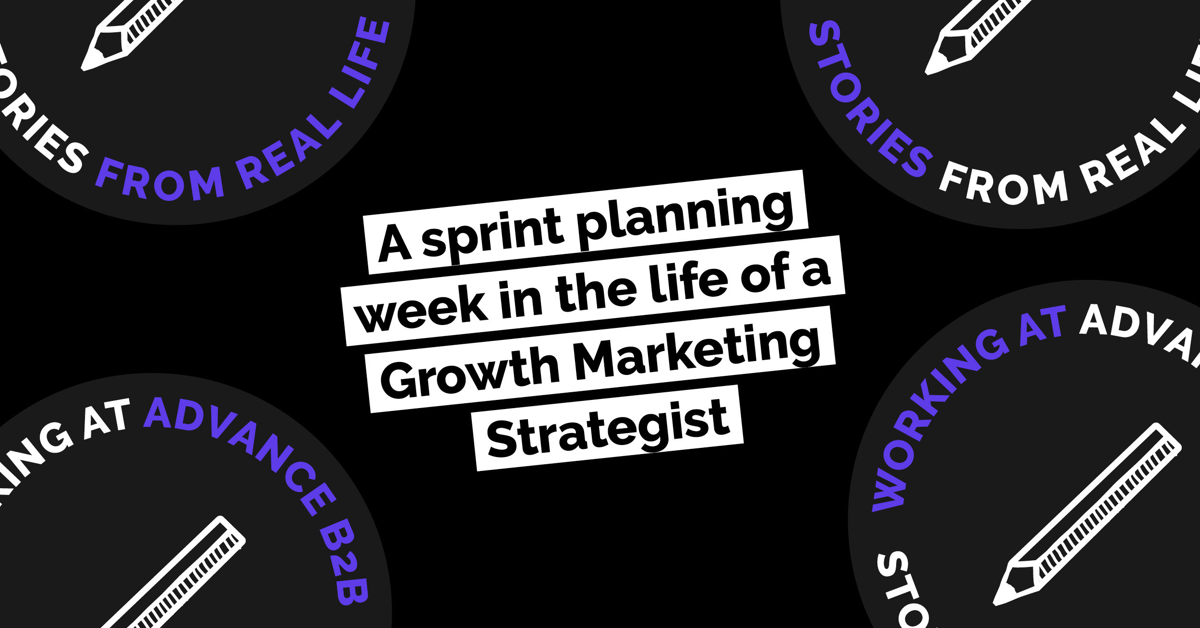 What does it mean to work as a Growth Marketing Strategist? Is it all about designing some elusive experiments and rolling the proverbial KPI dices to decide what to do next? So glad you asked. Below are my reflections from the past week. 👇
The week in question is something that we internally call 'sprint planning week.' One of the key differentiators to any other week in our job is that this week is spent interacting with our customers and planning ahead.
If it's not a sprint planning week, the Monday through Friday still looks the same. Other days in the sprint are spent working on tasks that were decided during the sprint planning, doing customer interviews, or having follow-up calls with our customers about specific tasks that need more discussion.
But back to sprint planning week. Every four weeks (roughly), it appears in the calendar. And I remember when I started, I heard people talking about sprint planning week in a sort of stunned way. Something along the lines of 'Oh yeah, next week is sprint planning week … [read out the dot dot dot for extra emphasis]. I wondered what would happen in this elusive sprint planning week, why it was something to respect. 
Wasn't it just about planning the upcoming month?
Well, it is. In a sprint planning week, we look back at the past sprint and how it went and then take a look ahead and plan all upcoming tasks. But let's put it like this: sprint planning week is usually finished on a Thursday, and on Friday you can prepare yourself to have a more leisurely day. 
In this blog post, I'll give you a bit more insight on why that is. 
Another thing to note is that during sprint planning week, in an ideal world, you don't work on any concrete tasks. But in practice you do. There are usually things for the sprint that are ending that need to be finished still.
As mentioned in my earlier blog post (The good, the bad, and the ugly about working at Advance B2B), this sprint model and having to finish things can be a bit tough if you are used to setting your own deadlines. I actually think it can also be challenging for customers because while we do the work, it's not like we are an island, and some things we work on require quite close coordination on the customer side as well. 
On that note, it's also good to remember that in reality, there are sometimes tasks pending once the sprint ends, and we then finalize these during the next sprint.
This my calendar from the last two sprint planning weeks. 👇 
They show two things: 1) I love my morning sports, and 2) sprint planning week is full of meetings. 
(Actually, it also shows that we try to dedicate some time to learning every week no matter how hectic it is.)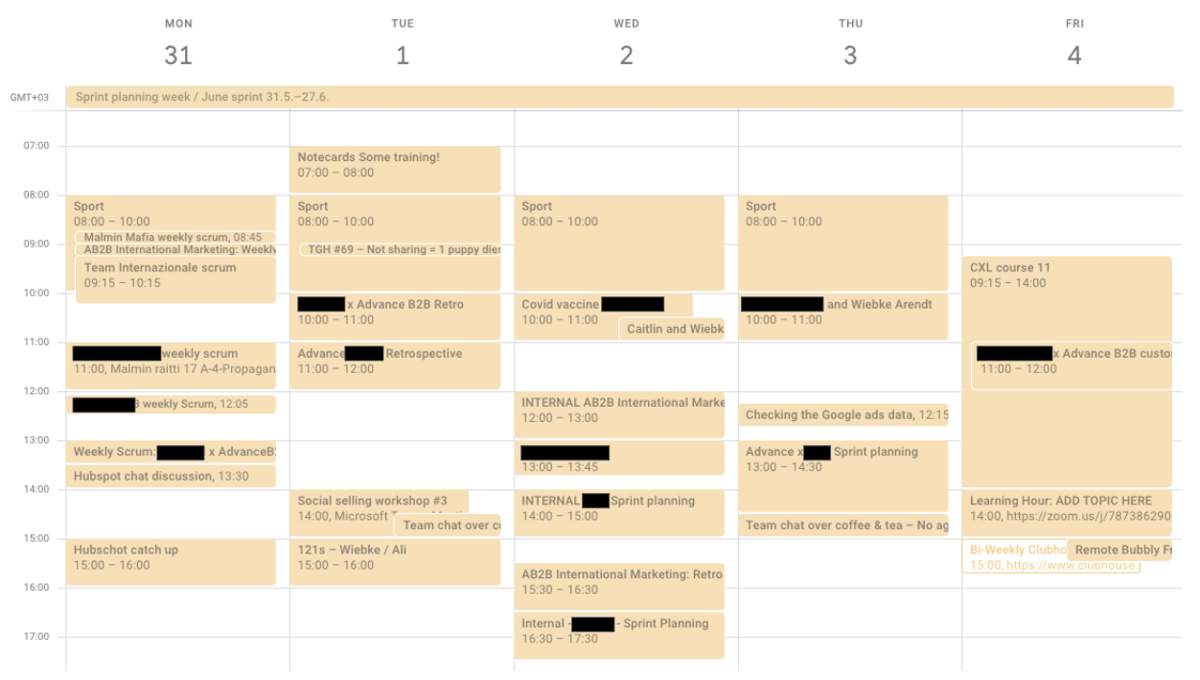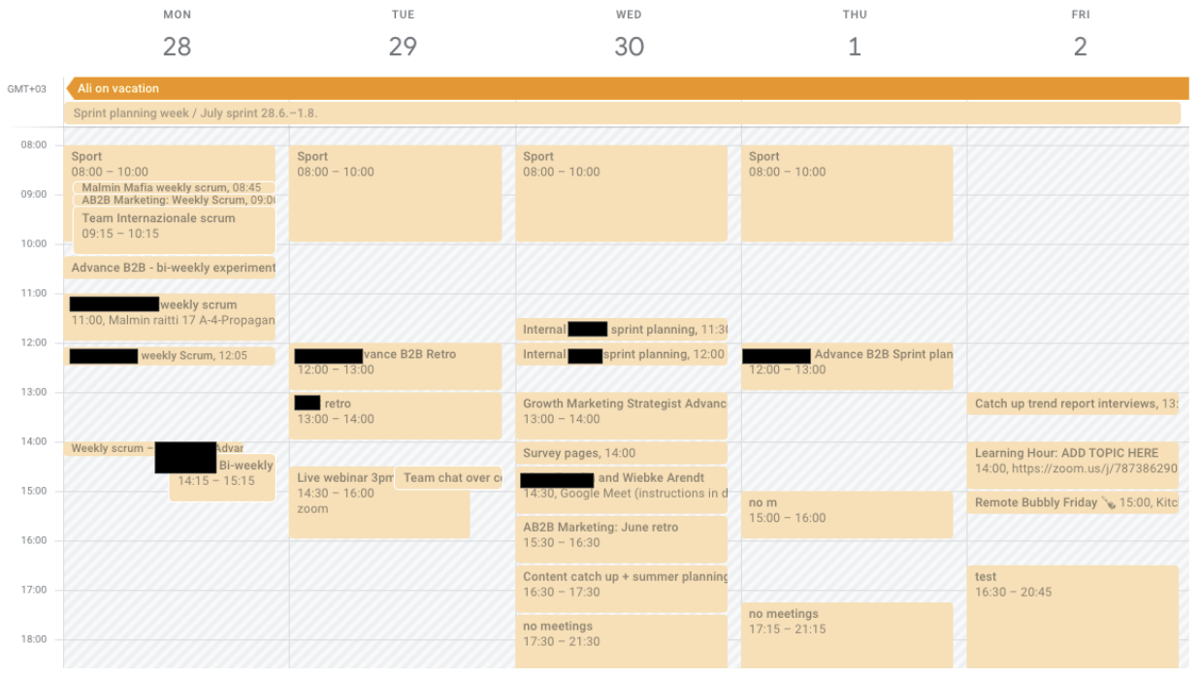 Monday, 28 June 2021
---
Dear diary, 
It's sprint planning week and Monday. On Monday's the day starts at 8:45 with our Malmin Mafia weekly scrum.
Who in the world decided 8:45 is an acceptable time for a Monday?
In any case, Monday itself is the day of scrums. Our company scrum, where we go quickly through what's going on with different parts of the organization, is followed by customer scrums.
Scrums are typically 15-minute stand-up meetings where you go through:
What has been done
What will you do
Is there any obstacle preventing you from doing what you are set out to do?
With some customers, however, the scrum might be a bit longer than 15 minutes. They are a great way to check and make sure everyone is still on the same page. 
Ensuring everyone is on the same page is one of the core things to take care of for a Growth Marketing Strategist. 
Tuesday, 29 June 2021
---
Dear diary,
Today it's the international day of retrospective meetings. A retrospective is a call where we look back at the month with the customer and see what we accomplished during the sprint. This is also where we take a closer look at the data we might be collecting. It's the perfect mixture of data and personal reflections. 



The retrospective (lovingly called retro too) follows a set outline:
What has been done in the last sprint, which tasks were completed, how many credits we spent, are there some leftover credits?

Performance. This is really different from customer to customer. But we look at the data of the concrete activities we do. I like to take a look at things that are directly related to our activities, such as advertising performance (if we worked on ads) but then add it to a wider context. For example, if we focus on taking over a new market with a customer, we look at leading indicators such as website traffic, search queries, search rankings, and the likes. But also at pipeline and bookings.

Sprint review. Now, this is the part that I am usually nervous about — but it gets better and is a practice I would recommend for everyone. We ask our customers three questions (and also answer them ourselves):





What were your highlights this sprint?
What did we learn?
What didn't go that well?
On a scale of 0-10, how would you rate this sprint?

Short look ahead of what to focus on in the next sprint.
It's actually quite interesting if you think of the sprint review part of the retro. I am sure all of us have received feedback before. But how often do you typically receive feedback on your work? 

I'd say not every month. 
Sometimes it's really just the annual development discussion or a random feedback session when something goes wrong. The sprint review really makes it a habit to ask for feedback every month.
It's not always comfortable, but it's essential. It makes sure nothing is building up, and we focus on continuously improving how we work together. In my opinion, in this also lies the secret power of having an agile working model.
I personally like to book all my customer retrospectives after each other. This is a bit tough— it basically means you receive feedback for several hours — but I like it because it means you can stay outside your comfort zone for a little while longer and don't have to shift back and forth.
I like to start the day with a long run, which helps me to be more focused, and then once the day is done, I usually do a short walk around the block. It's just a nice way to rewind and also take the feedback into actionable steps.
Wednesday, 30 June 2021
---
Dear diary,
Today is a great day. Only internal meetings and thankfully none start before 12 pm. This means I can wake up without having to hurry to get some workout in and make myself look somewhat presentable. Now it's time to plan the next sprint. Let's see which ideas we have for how we can help our customers with their business goals.

Wednesday in a sprint planning week is the day of internal planning. We have calls with the customer teams and discuss what ideas we have that we could take forward. 
We also have an 'experiment sheet' for each customer where we fill in observations and potential hypotheses that we find from their data. This sheet comes in handy for sprint planning because it helps us find and prioritize ideas we have. 
As you may have seen in our webinar, experimentation isn't only about advertising. But looking at data points with the mindset of making an observation and subsequent hypothesis differentiates collecting data for reporting and analyzing data. 
I digress, however, so back to sprint planning.
Our team makes a preliminary plan that we show on the board we share with customers. We evaluate the tasks we would like to work on and add an estimate for the credits.
At this point, I need to mention that the job ad for Growth Marketing Strategist should also highlight the mad math skills that are needed. We need to keep track of the credit amount and the available credits, and of course, that the credits are equally distributed among team members.
Thankfully there are those magic spreadsheet tools. 📊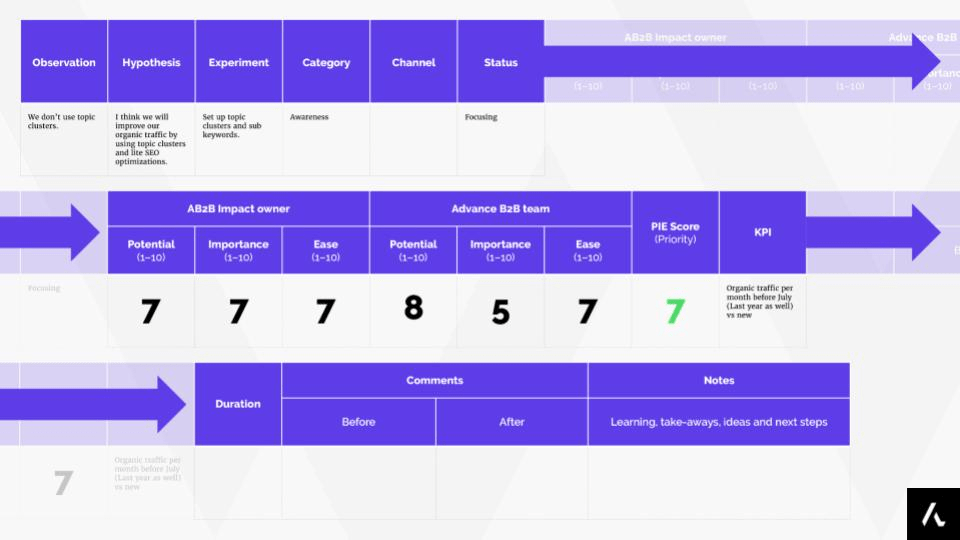 Thursday, 1 July 2021
---
Dear diary, 
This is gonna be a good day; I feel confident that we put together some great plans for our customers. Now it's just to align on those plans and adjust some details here and there. That is, if everything goes according to how I planned it. Well, whatever we do, it will be great. Let's get this day going.
Now, this is typically how the day of sprint planning with our customers starts. In reality, there can sometimes be the case of 'the best-laid plans,' and the customer has completely different priorities. 
But being able to anticipate what is a priority for the customer and what you see as strategically important and balancing those is one of the less obvious parts of a GMS job.
What that means in practice is that we have to of course ensure that we help our customers where they need it but we also need to help them steer in a strategic way. We are a strategic partner to our customers. This balancing act is sometimes a bit more difficult but this is exactly why we start our customer work with a strategy first approach. 
In any case, we go through our sprint plan suggestions with each customer and together decide what to work on for the next sprint and why. After that, we have a solid sprint plan. Some tasks we decide on might be quite time-sensitive, so those are prioritized. Some tasks require follow-up discussions. I typically like to book those right after the sprint planning week.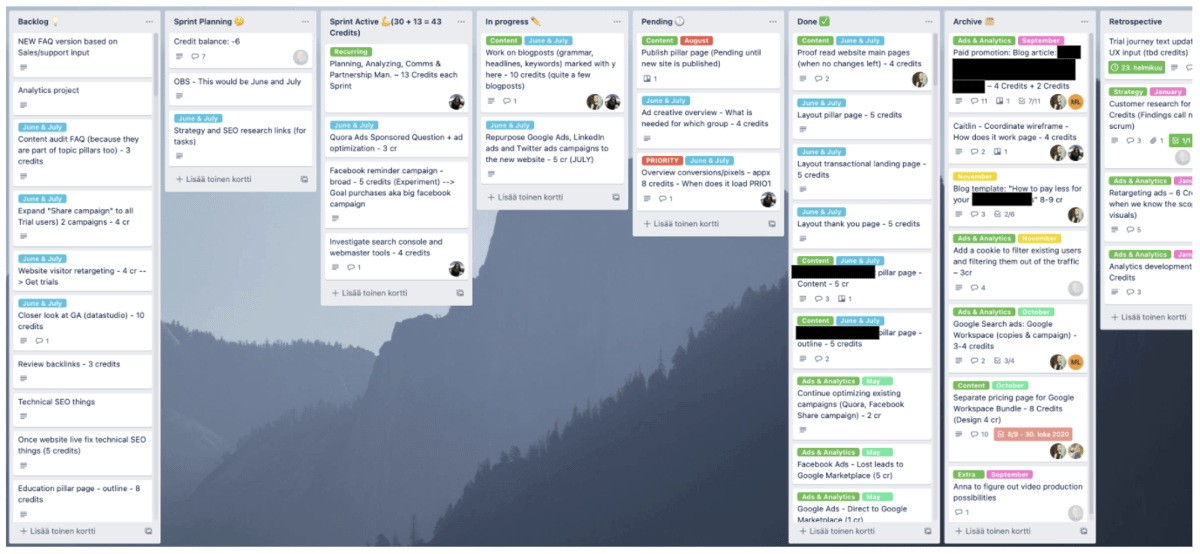 Friday, 2 July 2021
---
Dear diary,
Finally it's Friday. Nothing spells Fri-yay quite like Friday during a sprint planning week. One of the nicest things about this Friday is that there are no meetings. No internal or external meetings. 

Working as a GMS means that you will do a lot of talking during sprint planning week, or you will lead a lot of meetings. Of course, you are not alone: luckily all the teams have other people too (such as content marketers or paid acquisition experts), who also do a lot of talking and present the KPIs for their work. 
But still, on Friday you will typically feel quite talked out.
I like to go through the planned sprints on Fridays and check that everything is correct with the credit allocation for each task, and then I plan my month to come. I go through everything that I will work on during the sprint, and make calendar blockers for all of these. And if there are several tasks involved, I like to break them down.
Friday is also the time when we send the weekly update to our customers. That happens every Friday, regardless of sprint planning week. In the weekly update we just provide a written summary of what happened during the week. 
And that's a typical sprint planning week for a Growth Marketing Strategist. It's somewhat intense but it also means you know exactly what you are working on for the next four weeks and what's expected of you.
An outside perspective on sprint planning weeks
---
That's me: prince Mirò. I personally think sprint planning weeks are exhausting. The human only sits on the computer and when I try to get close and sit on the keyboard I need to leave. Not cool. 
After the week I feel exhausted but luckily on Friday's things are back to normal and we can both lie on the floor again. ✅