How we develop talent through learning at Advance B2B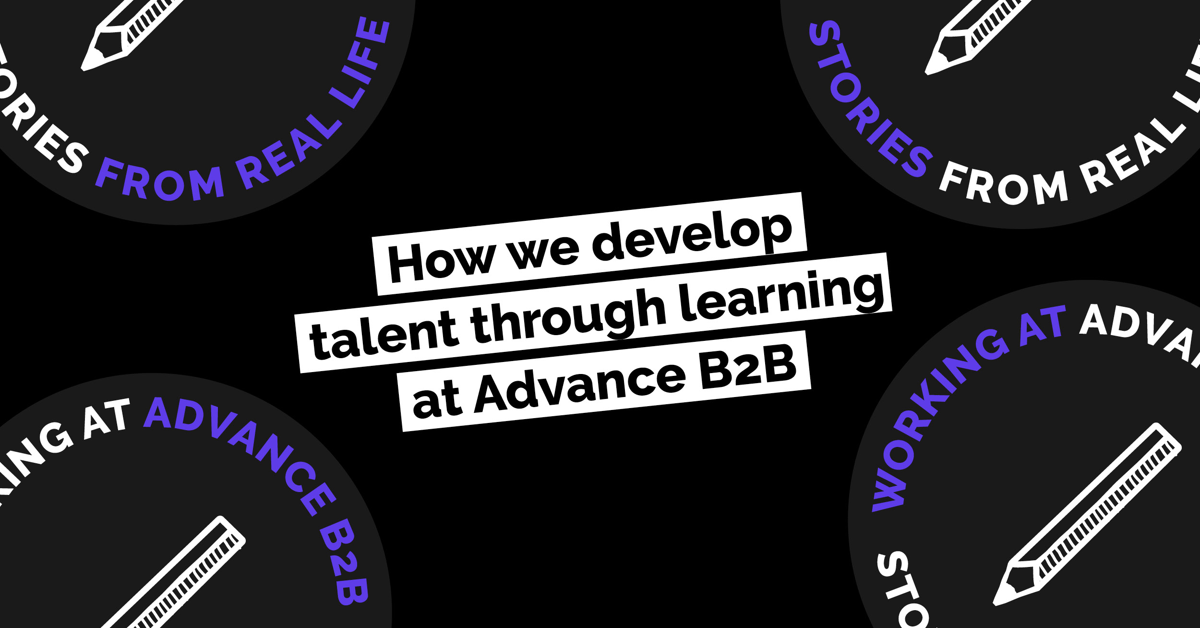 Moment of truth. I left my two previous jobs because I got bored. 
Don't get me wrong, I got to work with fantastic people, but I was also missing perspectives and a proper growth development plan. I was stuck in day-to-day tasks with very little - if no - room left for learning.
Well, in this post, you'll learn why we at Advance B2B value learning so much and what we're currently going to offer a supportive learning environment.

Why it's all about learning
Learning should be a focus for all organizations.
I'm not saying this because it sounds cool. This is what thousands of HR professionals, People Managers, and regular employees say in the 5th edition of the Workplace Learning Report (LinkedIn, 2021).
In short:
Learning is necessary to attract and retain talent. For instance, 76 % of Gen Z employees say learning is the key to a successful career.
Learning is needed to grow an organization. 82% of HR managers involved in talent development agree that engaged learners are more likely to find new roles in their organization. What's more, up and reskilling is the top priority for 59 % of talent development professionals.
We're nuts about learning at Advance B2B. And we don't just say that. We've done a lot to actually make it happen.

The learning culture at Advance B2B
I joined Advance B2B in May 2020, after only working in-house for SaaS B2B companies. What I expected from the agency world was constant challenges and opportunities to learn new things every day.
And oh boy, was I not disappointed.
I (still) work with fantastic people with different backgrounds, experiences, and expertise.
I get to work with different customers with different needs and problems.
We have a dedicated learning hour booked every Friday at 2 PM, which anyone from the company can book in advance (pun intended) to share knowledge with others ​​(to learn more about this, see some of our previous learning hour topics).
All employees benefit from an individual learning budget they can use the way they see fit to learn, may it be from attending conferences and online training sessions or reading books. 
All employees should dedicate 10% of their time to learning — and it's actually one of our company-level OKRs as well because it's sometimes challenging to find the time due to customer work.
A hunger for learning but no structure
With all that said, we did lack a proper learning structure.
But 2021 changed all that. Call us crazy, but we then decided to create new functions within the Advance B2B organization to structure the way we learn. 
We call them: Competence Leads.
Wait, what are Competence Leads?
Competence leads are employees responsible for exploring and developing scalable processes to ensure that we, as an organization, remain competitive. Of course, that involves exploring processes for employees to grow their skills.
We now have 5 Competence Leads to cover topics dear to our customers and us.
Paid Acquisition
Projects and Freelancers
I happen to be the Brand and Content Competence Lead, and I'll share a bit about what was done so far in that regard.
Building a brand and content Learning Factory
Because learning is such a big part of what we do and what we are here at Advance B2B, my North Star is to build a Learning Factory.
Of course, learning is personal, and you can't force anyone to learn something they have no interest in. So, we Content Marketers sat down and discussed the topics we'd like to learn more about to be better at what we do and be more prepared for tomorrow's challenges.
Here's what came up:
Analytics, audits, and research 
Creative content
Content distribution
Measure performance
Marketing automation
SEO & Content optimization
Conversion optimization
What has been done so far?
We've already accomplished quite a lot! To structure our learnings, we agreed to follow a monthly schedule. 
Each month, we focus on a different topic, and two of us have to put something together to share knowledge about it, may it be via a slides presentation or a workshop.
We began with this learning program in September, and I'm delighted to say that the process is well received. We're all trying our best to make the best out of this.
So far, Caitlin shared precious tips on how to produce more inclusive content, Mikko walked us through what he learned from building and growing his blog, Chris shared dos and don'ts he learned from working strategically with our customers, and Otto and I organized a creative content workshop during which we had to come up with a new Value Proposition for Advance B2B without using the terms "Growth", "Marketing" or "SaaS".
"I originally created these meetings a while back as a way to brainstorm with other content people from our company. There wasn't a lot of cross-team collaboration on content-related matters, and the idea was to share and learn from each other. However, it quickly became clear that the meetings were not useful without a proper structure or plan. At one point, we even stopped having them altogether. Having an agenda and new ways to do things has been very useful for everyone involved. Also, we're hosting the workshops in pairs which helps lower the threshold for everyone to participate."
> Caitlin, Content Marketing Specialist at Advance B2B
—
Interestingly enough, LinkedIn's Workplace Learning Report also reveals that Learning together (that includes Q&A, course shares, or group learning sessions) increases engagement by 30!
—
How do we measure our learning progress?
We're not here to attribute grades to anyone. However, being a Growth Marketing agency and all that, we firmly believe that one can only improve what you can measure and quantify.
So, we came up with what I like to call our Content Marketer Self Assessment Skillmap.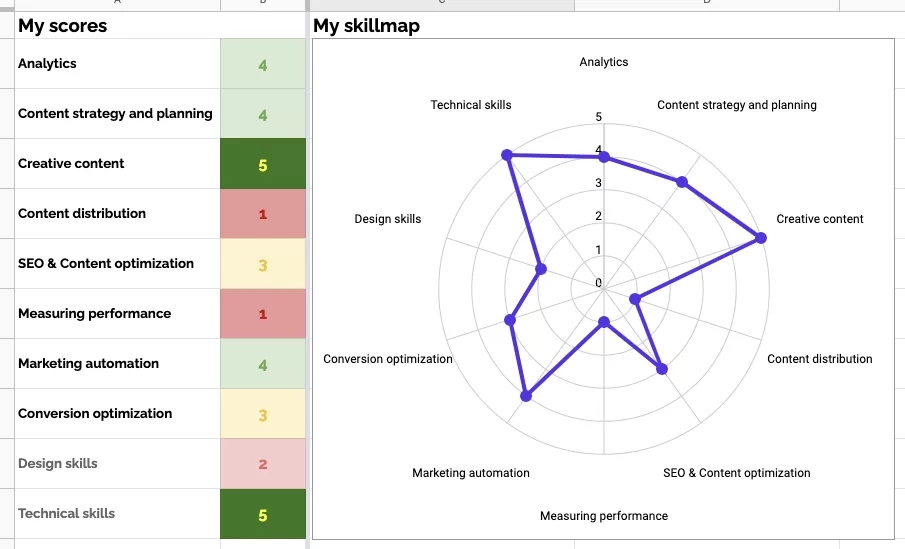 The Skillmap is experimental at this stage.
→ By the way, if you'd like to get a copy of the skillmap, ping me at clement[at]advanceb2b.fi!
At the time I'm writing this, we're about to start using our skill maps. Again, I want to stress that the idea here is NOT to pressure anyone into sharing their skill maps with anyone.
The sole purpose of the Skillmap is to become a self-assessment tool to visualize what you're great at, what you can improve, and what you need to work on. The purpose of the skill map is to help us structure the way we learn.
What's next?
It must be clear by now that learning is at the center of the Advance B2B experience. Now, to be honest, we're navigating uncharted waters here, and we're still trying to figure out how to do this best. 
Learning is such a personal process. We all learn differently. I, for instance, am a very visual learner and rely a lot on video content to learn new things. On the other hand, some of my colleagues love podcasts and audiobooks, while others prefer learning from actual books.
This is only the beginning. The next big step of our learning journey is set to happen during Q1 of 2022, where we'll gather up to define our OKRs.
We'll update this post when we have more exciting news to share!