Why I left Advance B2B – and why I came back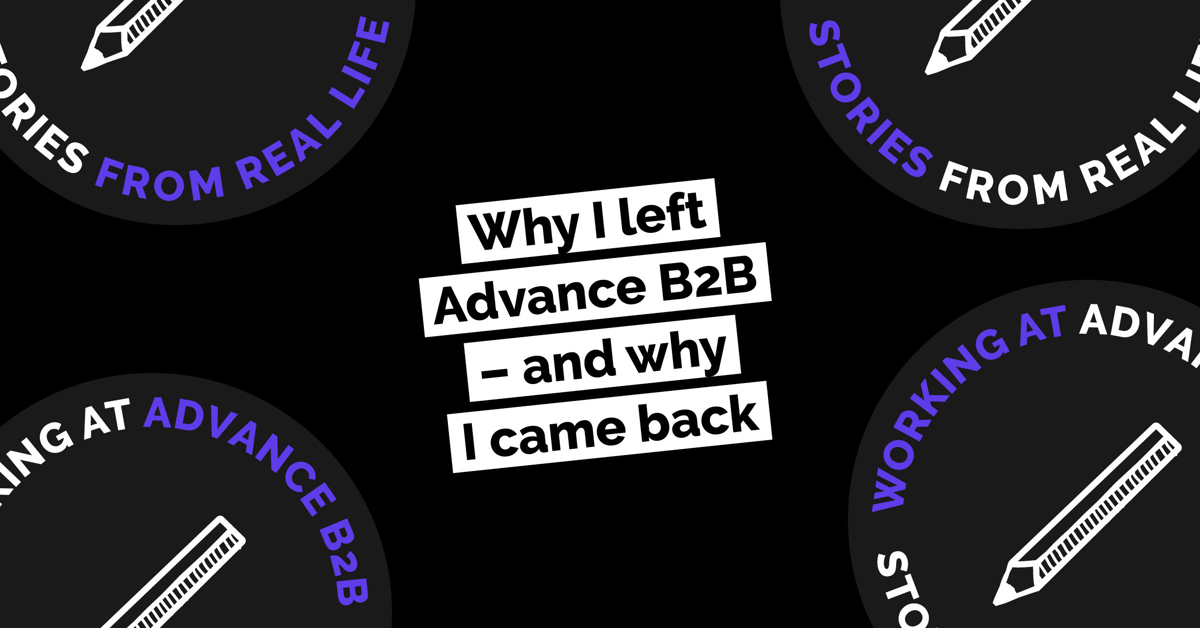 Hi there! 👋 I'm Inka, a Growth marketing Strategist and team lead at Advance B2B. I've been here since June 2021, and the best thing about my current position is definitely my new team of superstars. ❤️

But this is actually not the first time I'm working at this awesome growth marketing agency. 👀 I've been here before as one of the first original employees — and I was the first one to boomerang back after a couple of years elsewhere. 
But what and why, you say? Well, before I explain why I decided to come back, let's go back to the very beginning. 
Where it all started 🌱
---
In 2015, I started as an inbound marketing trainee at Advance B2B. 
At that point, what we know as Advance B2B today was a fairly bootstrapped company. It was more like a small team of people who all happened to be weirdly passionate about marketing for B2B companies (so passionate that they added the B2B part to the name). 
The cool thing for me was that even though I started as a trainee, I could take on more responsibilities along the way. In the true essence of the word "trainee", I was actually able to train myself. I feel like all too often when someone is a trainee, they are seen as just an additional pair of hands, and the learning aspect is often forgotten.
At that time, inbound was the gold standard for marketing, and we were considering inbound marketing trainings as part of our offering. My job was to think about the value prop and content of these trainings, as well as figure out their pricing and marketing. It was a real win-win situation, as I learned about inbound marketing and everything around it — and I had the awesome Mikko Seppä as my mentor.
I also got my first own customer when I was still a trainee, and after my trainee period was over, I took on the role of a junior inbound marketer. This is where I really learned how to manage a customer relationship, and I absolutely loved it. 
It's quite a different ball game facing your customers every week or month and making sure they get business value out of the cooperation, as opposed to seeing them more occasionally during training sessions. 
When I look back at that time now, the best thing was that I was able to grow with the challenges and take on a lot of responsibility. 
It's especially important to me to have a job where I can thrive, develop, and find creative solutions to business problems with quite some independence and help from colleagues. 
This is the environment Advance B2B was, and still is to this day. ❤️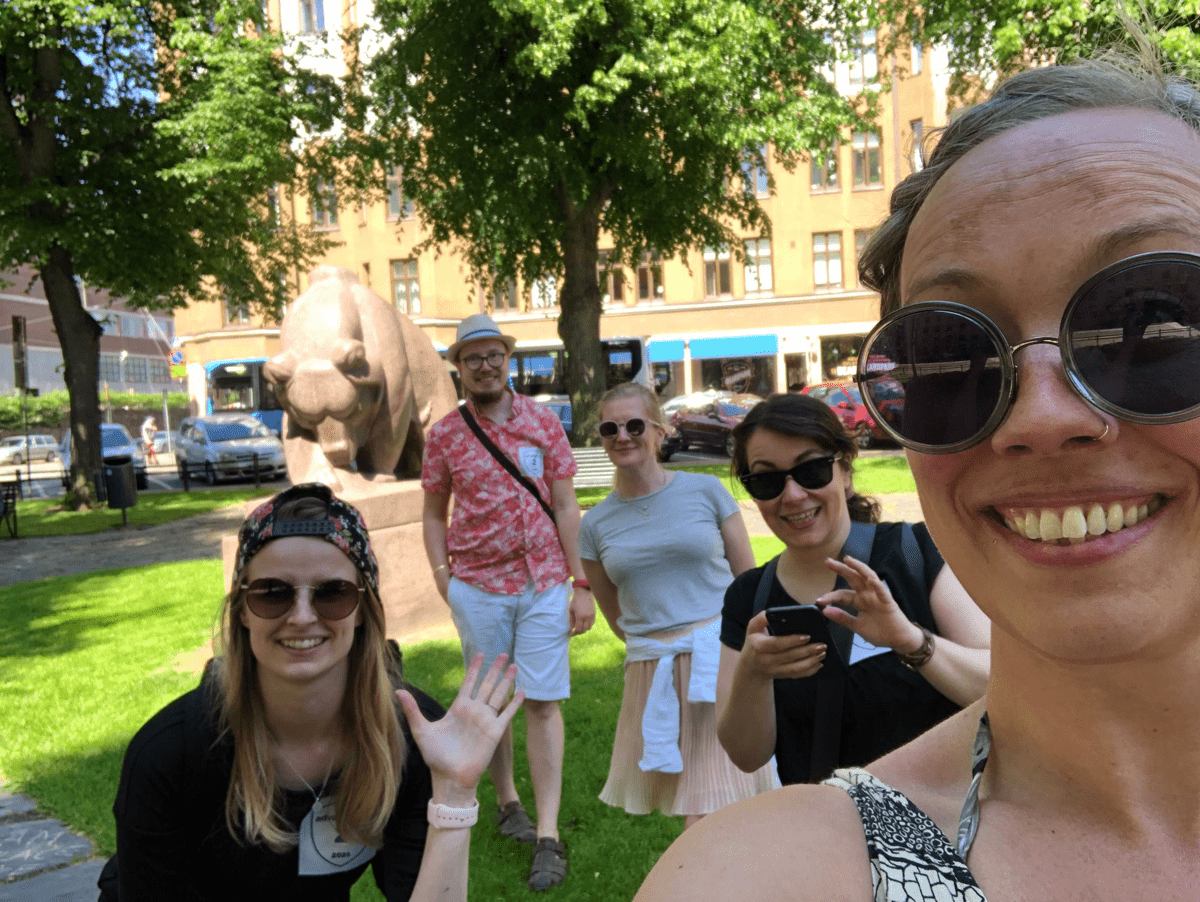 Where there is sunlight, there are shadows, too ☹️
---
Even though I loved working at Advance B2B, one day I decided to move on. Why? 
Well, nothing in life is just shiny happy things all around. 
I wasn't very good at managing my own time back then, and my work days were incredibly long. Responsibility means accountability, and while I was working hard to take care of my clients, I also wanted to see a different side of the business and develop myself further. 
I had started at Advance B2B as a trainee and developed at the company, so I felt it was time for new perspectives, but I didn't see many professional development possibilities in the company. I felt I was a bit stuck somehow. I was very interested in having my own team to lead one day, and Advance B2B even offered me leadership training in order to be able to do that. 
Unfortunately, a team in need of a lead didn't come along as soon as I expected. 
So, I left. 
(Lack of professional development possibilities is, by the way, one of the most common reasons why people leave their job. I feel like this is the one big thing for companies to crack if they want to retain their talent.) 
I quickly realized that an important piece in the puzzle for my professional development would be to experience the in-house side of things. I started to work as a Growth Marketing Manager at a consulting company. 
I was responsible for their growth from a marketing perspective. I created a growth strategy and executed marketing activities that were designed to sharpen the company's position as a management consulting firm — and of course to generate revenue and maximize customer lifetime value.
I was constantly hunting and testing new ways to achieve these goals with the best ROI. Data and well defined KPIs and targets told me which tactics work the best and which don't. 🤩 📈
I really got the chance to take what I had learned working with customers at Advance B2B, experiment with different things, and learn from it all. And gain even more responsibility in the process, especially from a sales perspective.
I was the first marketing employee there, and really could shape out the function based on what I learned about industry best practices. 🚀
But sometimes you miss the things you've left behind 💔
---
After about 2 years, I went back to Malmi and Advance B2B. 
While I loved being the only one in marketing and having the possibility to really shape out the strategy and activities as I wanted, I missed having a team. Working with other smart people is just so much better than being stuck with your own jokes day after day. 
Also, the in-house world started to feel a bit slow for me. I'm an active and impatient person and just need that lil' something — and agency workdays are never dull. 
One day I got a call from Sari, the CEO, who told me that they were looking for a growth marketer and team lead at Advance B2B. I loved that she thought of me — and I felt the feedback for why I left was heard.
I decided to apply for the job!
And here we are. Today, I am leading one of our growth marketing teams. I have responsibility for my customers and a team, I work with super smart people that are always ready to challenge my ideas, and I can continuously learn and develop myself by sparring with them. ✨
I went back to Advance B2B because the culture is truly unique. I know this is such a cliché but it's the truth. You're allowed to be 100% yourself and have fun at work. We also have high ambitions, want to improve everything we possibly can, and constantly learn from each other. This keeps things interesting at work.
But as they say, don't look at what people say, look at what they do. So here are some examples: 
🎉 When you ask for help, you typically get a bunch of messages on Slack right away. ❤️
🎉  We have a work exchange channel where you can ask if someone else can help you if you for whatever reason can't complete a task (not your expertise, you got a holiday, bad month).
🎉 If you have a creativity block, you can always navigate to a random channel on Slack. There you find a bunch of out-of-the-box ideas and bad jokes.
🎉 We are super transparent about the company's numbers on a monthly basis, including things like revenue and targets, EBITDA, sales forecasts, customer and employee NPS scores etc. We share company-wide ups and downs openly.
🎉 We have casual meetings every week where we get to know our lovely colleagues as human beings, not just work buddies.
🎉 Do you feel like dressing up as a crayfish or a chicken at work? No problem. The costumes are at the office, waiting for you. 
I don't think Advance B2B is the right place for everyone. No company is. 
But it's definitely a great place for anyone who wants to be challenged, trusted and encouraged to learn more — and by the way, we're allowed to use 10% of our work time for learning and development.